Who is Grandpa?

Grandpa is William McCloud, who climbed out of the hole of poverty. He left his family and traveled to Los Angeles, California after serving four years in the U.S. Army. He went back to school and got a GED, then went on to college to gain a degree in Broadcasting. He worked a Studio Field Engineering job at ABC Network TV. While there he was nominated 5 Emmy's and won three. William went on to raise five children, got a PHD in Metaphysic and Religious Science and wrote a memoir "Setbacks Create Comebacks". He later did standup comedy, became an actor, writer, speaker, songwriter, business owner and now is the talk show host of "Grandpa Speaks". I believe that we as human were given a mind. This mind is the most powerful tool we have control of. Everything you see comes from the mind. Our creator created people so that it can create through us. While only a few know this, most people have no idea of who they are. I have been blessed to learn the truth. We can accomplish anything we truly desire, when our desire becomes our passion. I have accomplished what I set out to do and I'm still on a mission. I am at the age where most people give up and wait to die; I am healthy, mentally strong, awake and happy. I believe everyone can be the same. Listen to "Grandpa Speaks", Saturday's at 9AM on ABC NEWS/KMET 1490 AM.

---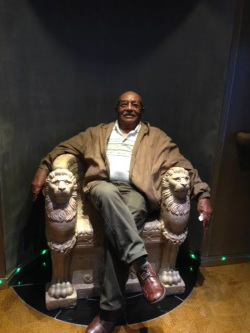 COMING SOON...GRANDPA SPEAKS TV

The TV series, "Benson" ran for seven years during which it won 2 Emmys both in 1985.

Bill McCloud won one of his 3 Emmys in 1985 for Camerawork on the Benson TV series Season 6, Episode 13, "Home For Christmas"

Now it is time for Bill to win another type of Emmy with a show of his own, Coming Soon.


---